JOIN US
BUILT Cluster participants come from all facets of the clean technology sector.
Diverse participation allows the BUILT Cluster to drive impact in the generation and growth of sustainable built infrastructure technologies and practices.
Participant Benefits
Interested in BUILT Cluster participation? Refer to the Cluster Participation Benefits Matrix below for more information: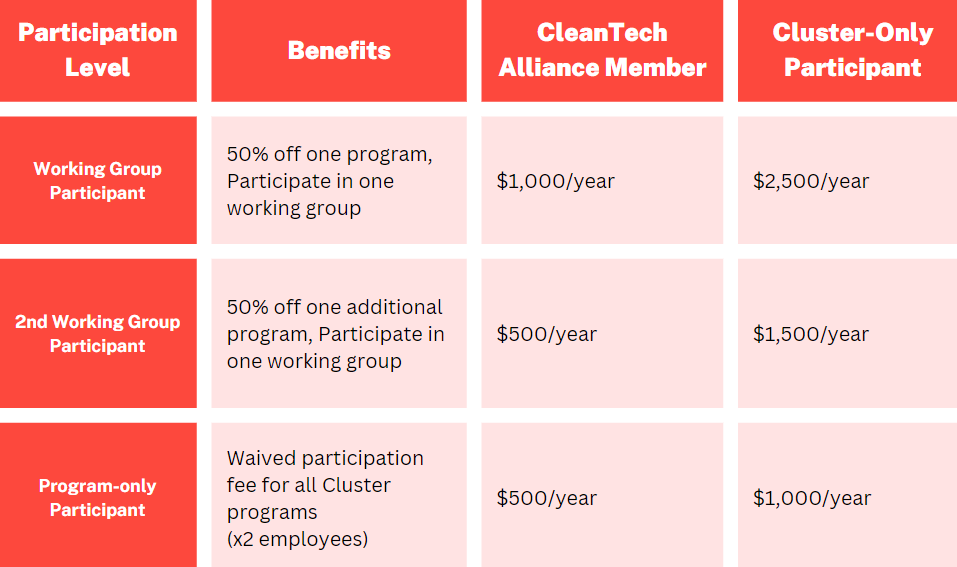 BUILT Cluster Programs
Examples include:
Fusion Week, consisting of educational presentations and panel discussions on the industry
Fusion site tours with participating fusion energy companies
Lunch Series events focused on BUILT Cluster topics
C-Suite Panels featuring clean technology executives
Networking & engagement with international cleantech innovation cluster groups
Special access to webinars on economic development opportunities and topics
Special Access
BUILT Cluster participants gain special access to:
Working groups* consisting of peers in your industry
Joint demonstration projects via one (or more) of the working groups
Staff time for organizing and coordinating working groups and projects
Staff time to evaluate grant funding opportunities
Staff time for fostering better relationships with the regional Centers of Excellence and Career Connect Washington
Marketing and outreach opportunities to a broad cleantech ecosystem
A voice in the K-16 education system and community colleges via our workforce development staff
* Active working groups include Fusion Energy, Thermal Energy, and Talent & Training. Future working groups include Net-Zero Materials. *
Inquiries?
Contact Rachelle Ames at rachelle@cleantechalliance.org or JP Newmann at jp@cleantechalliance.org